These Amazing Moisturizers Will Spice Up Your Daily Skin Routine.
All the product which we are recommending you are selected by a lots of research and also with the help of the experts.
If your skin is oily, and normal washing isn't giving the glowing skin, beautiful complexion, Don't worry. We gotch u with our list of 13 best water based moisturizer for oily skin.
By using these moisturizer you can take your skin care routine to next level. You can reduce dullness, roughness, dryness by using Water-Based Moisturizer twice a day, It helps in to hydrate your skin, works as an antioxidant, reduces acne makes your skin softer and gives you a glow. Check out our list of the top 13 water based moisturizer on the market.. Keep scrolling!
In This Article
1. Plum Green Tea Oil Free Moisturizer for Daily Use| Enriched with Squalane, Niacinamide & Hyaluronic Acid.
Dullness, dryness, acne and oiliness rising any bell to your problems then this moisturizer is must in your daily skincare routine. Plum green tea oil free has lightweight, fragrance-free, non-comedogenic face moisturizer is a must in your daily skincare routine. It has no artificial colors, 70% increase in skin nourishment and 99% increase in skin radiance.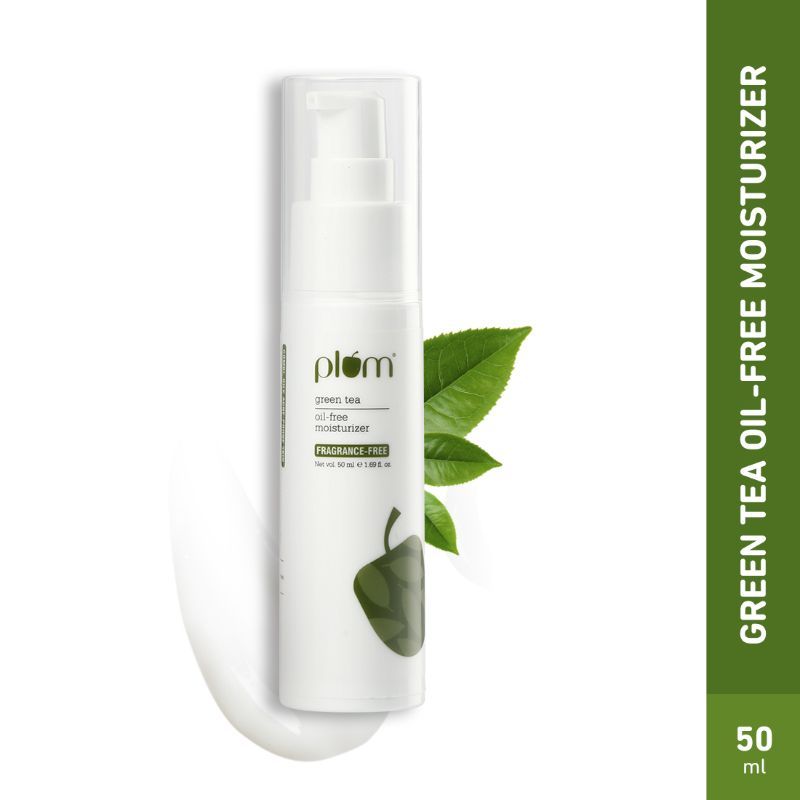 Key Ingredients
Aqua, Aloe Barbadensis Leaf Juice, Betaine, Isodecyl Neopentanoate, Niacinamide, Salix Alba(Willow) Bark Extract, Camellia Sinensis (Green Tea) Leaf extract, Terminalia Ferdinandiana , (Kakadu plum) Fruit Extract.
Pros:
Contains Green Tea, Niacinamide,Sodium Hyaluronate, Squalane, Kakadu Plum, Willow Bark Extracts
Lightweight, Oil Free, Fragrance free moisturizer
Sufficiently hydrates oily, combination acne prone skin
Skin stays oil free for almost 6 hours after application
Will work for other skin types in layering
Gel in cream consistency but gets applied as gel
Almost leaves zero residue without sticky, greasy if not applied in excess
Works well under a sunscreen as well as BB cream
100% vegan formula
Peta certified brand
Packaging is recyclable and Plum takes back their empties
Cons –
A bit pricey for the quantity offered although often found at discount
2. Minimalist 10% Vitamin B5 Gel face moisturizer for daily for oily & Acne prone skin
If you have oily and acne prone skin This face moisturizer is perfect for oily skin and is enriched with vitamin B5 which nourishes the skin and reduces transepidermal water loss. It keeps the skin moisturized and hydrated without an oily feel. This oil-free moisturizer also contains copper, zinc and magnesium which optimise cellular respiration and provide clear and fresh skin. It is infused with 10 percent vitamin B5 that boosts hydration and promotes faster skin healing. It reduces acne and helps the skin maintain healthy levels of fatty acids by regulating the production of sebum.
Key Ingredients
Vitamin B5: A powerful humectant which provides deep penetrating moisturisation to the skin. It also provides healing and anti-inflammatory effects.
Copper, Zinc and Magnesium: The mixture optimises cellular respiration and provide clear, fresh skin
Betaine: Hydrates, soothes and reduces visible signs of ageing
Pros –
Reduces acne & Hydrates Skin
Oil free product & Lightweight
Cons –
3. mCaffine Oil Free Face Moisturizer with pro Vitamin B5
In this moisturizer Pro-Vitamin B5 along with Hyaluronic acid helps in controlling the excess oil by maintaining the skin's hydration Acid also plums the skin and draws in more water with its skin hydrating properties. It keeps the skin moisturized for up to 48 hours!, it has the aroma of freshly brewed coffee which gives you energizing & refreshing feeling.
Key Ingredients – Coffee and caffeine , Hyaluronic acid ,Pro vitamin B5.
Pros –
Keep the skin moisturized up-to 48 hours
Maintains the skin's hydration and enhances water retention of the skin
Controls excess oil
Cons –
4. Dot & Key CICA + 5% Niacinamide Oil Free Moisturizer
Dark spot, oily, sensitive, acne prone skin are of your problem then this moisturizer is perfect for you. It controls excess oils, acnes & pimple breakouts ,helps in fading the dark spots & blemishes the skin, calms the inflamed & irritated skin, It gives long lasting hydration without oiliness and greasiness and friendly for hypersensitive skin too.
Key Ingredients– Super cica, Oatmeal , 5% Niacinamide , Ceramides
Pros –
Lightweight oil-free
Super Cica technology
Hydrate skin with accelerating skin barrier repair
Non-comedogenic formula
Suitable for hypersensitive skin
Fragrance free
Cons –
Doesn't work much on whiteheads
5. Be Bodywise Oil Free moisturizer for face
Hyaluronic Acid Moisturizer for Oily & Acne Prone Skin in India
This Hyaluronic Acid Cream contains a lightweight, artificial fragrance-free moisturizing formula for acne-prone skin. It is a non-comedogenic face moisturizer with essential ingredients like Ceramides and Phytosqualane that regulates excess oil production, and restores skin barrier to protect the skin from moisture loss.
Key Ingredients – Hyaluronic acid , Ceramides, Phytosqualane
Pros –
Artificial fragrance free
Non-comedogenic face moisturizer
Restore skin barrier & Soothes skin
Cons –
6. Neutrogena Oil Free Face moisturizer SPF 15 For normal to oily skin
Neutrogena Oil Free Facial Moisturiser, SPF 15 provides long-lasting 12 hour moisturization with sun protection for softer, smoother, younger-looking skin
This formula contains no fragrance, no dyes and is oil-free. Non-comedogenic, so it won't clog pores that can cause skin to break out.
Key Ingredients – Octyl Methoxycinnamate 6%w/w, Phenylbenzimidazole Sulfonic Acid 1%w/w Hydroxybenzoates, Phenoxyethanol.
Pros –
Sheer formula absorbs quickly.
Non-greasy & Light weight.
UVA and UVB protection.
12 hrs long lasting.
Cons –
7. The Derma Co 1% salicylic Acid Oil Free Moisturizer
It deeply moisturizes skin Daily dose of deep moisturization is the key to healthy skin. Our 1% Salicylic Acid Oil-Free Face Moisturizer keeps your skin supple leaving any greasy residue. Enriched with the hydrating and soothing properties of Oats, the moisturizer penetrates deep into the skin to offer essential nourishment. Yay! It's time for deeply moisturized skin. It offers deep level exfoliation, prevents occurrence of new acne.
Key Ingredients – 1% salicylic acid , Oat extract.
Pros –
Penetrate deep in the skin for essential nourishment
Prevents occurrence of new acne
Absorbs quickly
Cons –
Not removes old stubborn acne marks
8. Aloe & Me Gel Face and Body Moisturizer
If you have Oily, sensitive and acne prone skin, Here is the Aloe & me face and body moisturizer It Nourishes skin and reduces trans epidermal water loss, Moisturizes & hydrates skin without the oily feel, Heals skin & controls sebum, Safe for Sensitive skin.
Key Ingredients – Green Miller Aloe , Calendula Extracts , Vitamin E, Oat milk Extracts.
Pros-
Absorbs quickly
Helps in relief from dry and itchy skins
Reduce oil
Cons –
9. Hydraclear Oil Free Moisturizers for Oily Combination and Acne prone Skin
This face moisturizer This Face moisturizer/cream works best on OILY, COMBINATION & ACNE PRONE SKIN. Works for Normal & Dry skin types too. Has Superlight texture which does not clog pores and Hydrates skin for upto 8 hours. Hydraclear Oil Free Moisturizer has Niacinamide, Allantoin, Green Coffee Extract & Vitamin C which brightens skin and gives it a natural Glow, its clams irritated skin and hydrates the skin.
Key Ingredients – 2% Salicylic acid , Willow bark, Niacinamide , Vitamin E & B5 , Hyaluronic acid,Green coffee Extract ,Vitamin C.
Pros-
Absorbs quickly.
Non-stick and Non-oily
Skin soothing ingridients
10. Earth Rhythm Phyto Clear Oil Free Moisturizer
Hydrates & Cools Down Skin: Our CICA Gel is formulated with Centella Asiatica that soothes and hydrates the skin. Centella Asiatica is a natural anti-inflammatory ingredient that heals damaged skin and even helps to fade scars. Our high-performance CICA Gel has cooling effects that calm your skin down. It's easy to apply and is an effective solution for skin prone to acne or pimples.
Key Ingredient – Centella Asiatica ,Horsetail Extract ,Sage Extract .
Pros –
Hydrates & Moisturize skin.
Fades Away Dark Spot
Heal Acne & Fragrance-Free
Cons –
11. Peau D' origine Hydro Boost Water Gel Face Moisturizer
Peau D' origine Hydro gel helps in providing oxygenation and hydration for dehydrated skin, It gives 24 hours of hydration and 50% more Hyaluronic acid. Unique light-weighted fresh texture that can be instantly absorbed.
Key Ingredients – Hyaluronic acid, Niacinamide, Aloe Vera .
Pros –
Lightweight moisturizer
Easily absorb into skin
Keeps skin hydrated
Soothing smell & Non Greasy.
Cons –
Contains paraben
Expensive
12. Rivona Naturals Aqua Moisturizer Cream
Rivona natural moisturizer helps in damage repair, gives natural nourishment, total protection, It provides sun protection, controls pimple and blemishes, gives radiant glowing skin, revives aging skin , gives moisturizing & hydration and It suits all skin types.
Key Ingredients – Centella asiatica Extract , Macadamia nut seed oil, Chamomilla recutica flower Extract , Polygonum cuspidatum root Extract.
Pros –
Radiant and glowing skin
Gives good hydration & Repairs damage.
Cons-
13. Auli Magic Potion Aloe Vera and Turmeric Gel Moisturizer
This is an all-rounder massage gel moisturizer for all skin types. Most effective for open pores, excessive oiliness, rashes, allergies, pigmentation, acne & acne scars, rosaces, skin infections, dark spot and sunburns, It helps minimise your open pores, to not just reduces its visibility, but also prevents your skin from being prone to sensitivity. Magic Potion also works as a primer that acts like a layer of protection.
Key Ingredients – Aloe Veera , Turmeric.
Pros –
Great for oily skin
Non sticky and lightweight Moisturizing
Works as a primer
Cons –
Conclusion
These are the 13 best water based moisturizer for oily skin in India available right now. They will help you in hydrating in skin, repairing your skin, However not all serum meant for your skin type so choose it wisely.
Read – 17 Best Face Serums for Oily Skin for Glowing Skin with Price in 2023